20 Most Promising Home Automation Solution Providers - 2018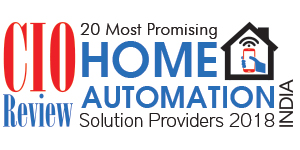 The global home automation system mar­ket was valued at USD 39.93 Billion in 2016 and is expected to grow at a CAGR of 11.3 percent during 2017-2020 while the Indian home automation market is expected to reach INR 30,000 Crore by 2022. The market growth can be attributed to factors such as grow­ing penetration of IoT and smart phones, the in­creasing adoption of smart phone based app for home automation, increase consumer awareness about energy consuming products, technological advancement, convenience factor, rapid mobile connectivity, and urbanization. Initially, home automation applications were deployed to gain control over simple appliances, but soon these systems evolved to control, monitor and automate entire functions, activities and other aspects of homes. The rapid growth in technology has fa­cilitated manufacturers to design sophisticated systems with smart sensors for lighting, motion, proximity (presence), voice detectors and others to control indoor lights, doors or windows, securi­ty cameras, television, temperature (HVAC) and other appliances.
Despite enabling aesthetical benefits, integra­tion of mobile devices, maximizing home security, remote control of home functions, increased ener­gy efficiency, improved appliance functionality, factors such as high installation cost associated with the devices hinder the growth of smart home automation market. The market with ever-evolv­ing customers' requirements makes it imperative to build cost effective and easy user interface to push commercialization of home automation solu­tions. Well acquainted with this scenario, CIO­Review India presents a list of "20 Most Promis­ing Home Automation Solution Providers". Being closely scrutinized by a distinct panel of judges including CEOs, CIOs, CXO, analysts and CIOR­eview editorial board, we believe these solution vendors can help in designing better safety, secu­rity and smarter homes.
We present to you CIOTechOutlook 20 Most Promising Home Automation Solution Providers - 2018.
Top Home Automation Solution Providers
| | |
| --- | --- |
| ANTAR | Builds a range of smart products & software platsforms in the internet of things and Next generation technologies space. |
| Avenir India | Offers complete Automation Solutions for homeautomation, office automation, hospitality automation, security & safety, gate automation. |
| Blaze Automation | An IoT(Internet of Things) company that provides home automation & security products and AI based IoT analytics platform. |
| BuildTrack | A provider of Smart Automation, Internet of Things(IoT) solutions& building management systems for homes, enterprises, hotels, hospitals, and warehouses. |
| Crabtree Automation | Makes living spaces mart by controlling the lights, AC, curtains, fan, audio/video, while also integrating 3rd party devices like CCTV, and door contacts. |
| Crestron India | Offers control systems, audio & video distribution, lighting control, building management systems(BMS), motorizedshades and homesecurity systems |
| Digilux | Avails e-security & surveillance, home automation, audio video solutions and home theatre solutions. |
| Dream Smart Homes | Designs& Integrates automation and home theat resolutions to address lighting control, HVAC, security & access control, audio & video distribution. |
| Dwosa Automation | Office& HomeAutomation, Security& Surveillance, Energy Management, Ambiance Designing, Home Theatre& Professional Audio-Video solutions, Corporate AVsolution, Acoustics, Smart Water Metering,... |
| eDomotics | Core competencylies in system integration, home automation consultants, CCTV& security systems, product development, and audio & video. |
| Eutech Cybernetic | Deploys smart building& hospital management software systems for building information management, visitor management and asset management. |
| IFI Technology | Designs IoT enabled switches, sensor based lights, sensor, Alexa controlled light, security alarms, Wi-Fi door bell & accessories and network cameras. |
| iMonitor Solutions | Expertise revolves around home automation, IoT, life style solutions, energy management, security, basic industrial automation, hardware and software design& development. |
| Remote Technologies Inc | Builds hand held and in-wall universal controllers, central processors, audio distribution systems,and accessories. Specializes in specializes in remote control products for automating the... |
| Schneider Electric | Provides integrated solutions for energy management& automation in homes, buildings, data centers, infrastructure and industries. |
| SenZopt Technologies | Enables automation solutions for energy savings along with air quality management, lighting automation, equipment condition monitoring and space planning. |
| Smart Homes | Racing towards Industry 4.0, India is rapidly changing the automation landscape every day. |
| SpikingNet | The product portfolio comprises vehicle security systems, home security systems, vehicle monitoring systems, accident detection systems, access control systems. |
| Suvana Solutions | Renders comprehensive products for HomeAutomation, Utility Meter Reading, Energy and Fuel Management. |
| Thasmai Automation | Offers homeautomation &hometheatre solutions along with homesecurity solutions and lighting automation. |