20 Most Promising Home Automation Solution Providers - 2017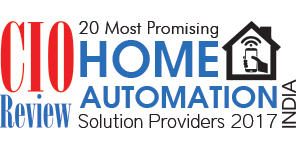 The Smart Homes market is fast evolving in the Indian context. Initially Smart Homes were marketed primarily as homes with advanced security features. The market is now evolving into newer areas like lighting systems, gas leakage detectors, fire detection systems, en­tertainment systems and energy efficiency systems. There­fore, Smart Homes, apart from providing better security, conveniences and comfort to the resident, also provide significant energy savings.
The lighting market particularly is largely driven by the residential segment. In India, the industry is still dominated by remote control solutions as mobile apps and other advanced solutions fall hard on the budget. Security systems are also becoming very popular in In­dia and are used by both the residential and commercial segments. HVAC and Audio/Video systems account for about 15-20 percent of the market and is typically provided in hotels and commercial complexes; residen­tial applications are still low. HVAC is largely done in complexes with centralized air-conditioning. The hospi­tality industry also uses home automation and accounts for 10 percent of the market. Security and lighting sys­tems are popular in this sector due to the growing need for differentiation.
It is estimated that the Smart Homes solutions market in India is growing in India at a rate of 30 percent YOY. At this rate, the market will double in revenue every 3 years. The market is therefore, likely to explode over the next few years. With so much buzz around Home Auto­mation, it will be unfair to leave out the Indian players in this market who are on a constant run to bring the best of home automation solutions to better the Indian lifestyle. Therefore, we bring to you a list of "20 Most Promis­ing Home Automation Solution Providers". Being closely scrutinized by a distinct panel of judges including CEOs, CIOs, CXO, analysts and CIOReview editorial board, we believe these solution vendors can fundamentally and per­manently reshape the Indian household landscape with the right mix of solutions and platforms.
We present to you CIOTechOutlook 20 Most Promising Home Automation Solution Providers - 2017.
| | |
| --- | --- |
| Alertcom Labs | Builds integrated solutions for a variety of automation requirements including Lighting Automation,Security,Access Control, Intrusion Detection, ComfortSolutions and Energy & Water Management. |
| AVP Solutions | Develops solutions involving home automation, hotel automation, commercial automation, surveillance, Acces & Fire and Wi-fi & Wi-Max. |
| Awicon Technologies | Develops integrated & automation solutions for control lighting, audio, video,computer, IP and environmental systems to homes, offices, schools, hospitals and hotels. |
| BuildTrack | Renders Automation solutions suitable for homes, offices, communities, hospitals, senior living and hotels. |
| ControlAny | Speciality revolves around Internet of Things (IoT) Automation, Home Automation, Security Automation, Energy Monitoring, Infrastructure Management, and Entertainment Management |
| Cubical Labs | Offers solution for controlling electrical appliances, energy usage monitoring , integration with multiple platforms such as IP cameras and curtain closer monitors. |
| Home Brain | Enables automation consulting, designing & integration and products for controlling security, lighting and climate & appliance. |
| iBlink Smart Home Solutions | Specializes in Home Automation, Social Show Flat, Sample Flat Automation, Retrofit Smart Home Solution,Lights & Locks Automation and Surveillance. |
| Intellimation | Offers solutions for Security & Surveillance, Safety,Geofencing,Energy Management,Lighting & Entertainment and Remote Management. |
| IvoryEdge | Provides technology consultation,custom electronics, application development,integration & analytic for energy management,security, audio video and asset management. |
| Messung Group | Caters Building Automation & Control Solutions, Home Automation along with comprehensive after sales support and services. |
| Primal Automation | A certified system integrator of Home Automation and Building Automation Systems (BAS) that include Lighting, Energy Management, Multi-zone audio & video systems. |
| Protocol Automation | Avails time tested products, services and support for the industrial sector in a multitude of vertical markets including automotive, chemical, building automation, pharmaceutical, transportation,... |
| SharpNode Technologies | A provider of solutions involving Internet of Things, Electronics, Home Automation, Electronic Gadgets, and Smart Home and Office. |
| Silvan Innovation Labs | Renders products & system integration services in the automation market across residential, hospitality and commercial sectors. |
| SRV Infratech | Delivers solutions that inlude Lighting & Dimming, HVAC, Home Automation Controllers, Building Management Systems (BMS), Motorized Shades and Security. |
| Suvana Solutions | Provides comprehensive products for Home Automation,Utility Meter Reading,Energy and Fuel Management. |
| Thasmai Automation | Designs automation solutions for Home segment, Lighting Automation, Security comprising CCTV, Fire Alarm, Public addressing, and Access & Attendance. |
| VenbaTech | An Engineering & project management firm offering building automation services,closed circuit, and security services. |
| Zeesense Systems | Focuses to use wireless sensors and sensor network technology to develop products and solutions targeting security, safety and automation. |